Children are full of curiosity and personality. So, what better way to enhance their knowledge and inspire their passions than by personalizing their spaces with elements that reflect and nurture who they are? We're counting down the top 5 most unique room ideas for bold and creative kids to showcase their individuality.
Hobbies, and Interests, and Past-Times Oh My!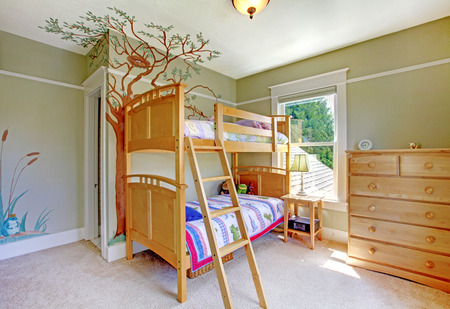 Kids are impressionable, curious, and constantly being inspired. So, surround them with interactive elements that harness their creativity or athleticism. Whether you're implementing aspects of their hobbies, or creating an entirely themed room, the ideas are endless!
Loft beds are bunkbeds with the bottom bunk missing, leaving a little cubby for a sitting area or dresser, among other things. They are fantastic elements that save space and provide a cozy nook where computer whizzes can implement a desk with computer monitors. Or, artists can instead set up an easel and adorn the inner cubby with their works for a makeshift gallery. It could even hold a vanity for the child who loves glitz and glamour.
You can even go the step further as to create a lego-themed room with brick stools and wall decals for the builder. Or, avid readers can also enjoy floating bookshelves in different patterns for all of their books, with hanging chairs or beanbag seats for the ideal reading area.
Lights on, Lights off.
In recent years with the increase of technology, projections and integrated wall lights allow for a surreal 3D experience. This is especially useful for themed bedrooms! Let your child be immersed into the deep blue sea with a digital projection of the ocean on their ceiling and across their walls as they sleep. Or, integrate small star light fixtures instead so that they glow at night to transport them into the milky-way.
You can couple integrated lighting with 3D elements such as the planetary system or majestic water animals for the ceiling or floor to truly capture the desired environment. Likewise, this can be done with various sports (soccer or football, anyone?) or even video game elements like from Super Mario for the diehard gamer.
From Wall to Wall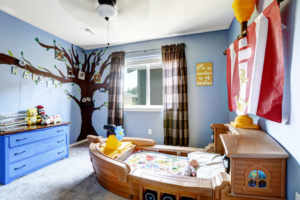 Colours and patterns can have a profound effect on the look and feel of the room, so set the mood by painting the walls. Smaller spaces can appear more spacious with lighter colours, while big rooms will seem cozier with darker shades.
However, you don't have to stick to just one! Depending on how many walls there are, painting a larger wall one colour with the others another can create a great accent wall. But, you don't have to stop there! Paint a racing stripe through the entire room for your speed-loving kid, or vertical stripes to add Parisian flare. You can even choose a fun patterned or textured wallpaper or paint the ceiling, too, with a mural!
Likewise, let your child interact with their surroundings. Chalkboard paint will allow them to let their creativity run wild and write on the walls! This is great not only for little ones, but for writing to-do lists and such among older crowds.
Sleep like a King, or a Queen
Bedding areas have become increasingly more elaborate with customizable options that really stand out. Banish boring twin beds with ones that sit inside Cinderella's pumpkin carriage or are suspended from the ceiling, or even ones that ask you to step inside of decorative cut-outs to transport you to the sweetest of dream-lands.
Likewise, adding innovative canopies or elaborate headboards, whether it be a bookshelf or a custom-made piece, can not only add personality, but great aesthetic value.
Hang Out!
Finally, cool seating is an easy way to fill up a space while adding uniqueness! It's also ideal for having places to sit when friends come to visit! From futuristic hanging seats and rope swings, to hammocks and beanbag chairs, pull up a seat and get cozy in your brand new bedroom!